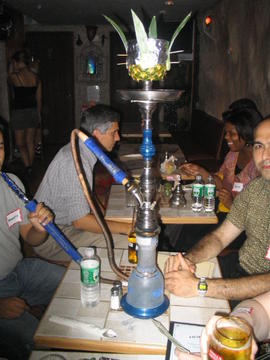 We're an International Community of nearly 1,100 diverse members from all over the world who share a common interest in some aspect of 'Arab Culture', whether it's Language, Music, Food, Dance, Art, or Politics!
Neither all 'Arab' nor all Muslim – although many of us are – we come from Many different backgrounds and ethnicities. Our club is Extremely Diverse, representing Every Continent, and over 42 Countries!!
We come together to enjoy events at different places in and around NYC – to socialize, study sometimes, and, above all, Have FUN!
While many of us speak Arabic, some don't – but no such skills are necessary! (although we do occasionally have language-related events). You don't have to own a car or drive (most events are accessible by bus, train, or foot power), + most of our events are 100% FREE!
SO, if you enjoy meeting people of other cultures, attending poetry readings, parties, movies, or dinners, practicing Arabic or just hangin' out, come join us!
Michael Kim 'Jamal' Riegelman
Director, NYC International Arabic Language & Culture Social Club
www.NYCALCC.com
NYCArabicLanguageClub@gmail.com
(347) 523-3937