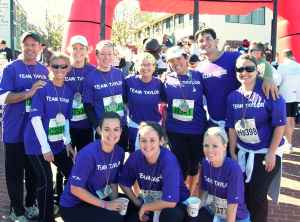 Help Fight Pancreatic Cancer by walking, running, or fundraising from home!
Pancreatica Walks and Run's mission is to raise awareness, increase education and support research aimed at changing the tragic human relationship to pancreatic cancer.
Choose from our many selected events listed on our website or with our Dedicate-A-Race program you get to choose any event you like – anywhere in the world – Walk, Run, Cycle, or Fundraise from home!
Participating event cities are: Atlanta GA, Austin TX, Baltimore MD, Big Sur / Monterey CA, Boulder CO, Chicago IL, Dallas TX, Denver CO, Houston TX, Indianapolis IN, Miami FL, Minneapolis MN, New York City / Queens NY, Portland OR, San Diego CA, San Francisco CA, San Jose CA, Seattle WA, Washington D.C.
Contact us to learn more
1-877-863-4448
www.ToFightCancer.com
E-mail Participate@ToFightCancer.com
This is a wonderful opportunity to help in the fight against pancreatic cancer while…
• Doing something remarkable for yourself and for others
• Contributing to a good cause
• Being an example for others to be inspired to action
• Learning more about fitness, health, fundraising and more!